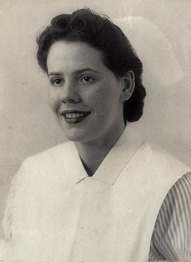 Mary Helen Leisey, 89, of Elizabethtown, PA, entered into eternal rest at her home on Sunday morning, September 28, 2014 following a full life. Born in Honey Brook, PA, she was the daughter of the late Lottie (Seaboldt) and George Abbott. She was the loving wife of Alvin L. Leisey, Jr. for 69 years on February 24.
Mary Helen was a member of John S. Sell Memorial Chapel in Elizabethtown and formerly an active member of Honey Brook United Methodist Church where she taught Sunday school and was a youth leader. Following graduation from the former Coatesville Hospital Nursing School, she spent the last six months of her three years with the Cadet Nurse Corps at Deshon Army Hospital in Butler, PA during World War II. Following the war, she founded a health program with the Red Cross on the campus of Penn State providing treatment for returning soldiers. Her dedication to nursing and public health was a lifelong passion and was practiced in various environments, eventually leading to nutrition consulting. She also volunteered her skills at Masonic Village and shared her experiences with nursing during and after WWII with students at Elizabethtown College.
Mary Helen was a member of the Order of Eastern Star, Elizabethtown Chapter No. 407 and the former Honey Brook Chapter. Regardless of where her family lived on the east coast and other places, she invested herself in the communities in which she lived by becoming involved in girl scouting, YWCA, Women's League of Voters, community theater, to name a few. In addition to traveling extensively throughout the United States and Canada, she enjoyed the arts, cultural experiences, skiing, tennis, boogie boarding, and other sports activities.
In addition to her husband, she is survived by seven children, LaLoni Bryan (Clark Bryan), Randall Leisey (Beverly Perkins), Mary Ellen Baker (Jerry Baker, deceased), Ronald Leisey (Cynthia Leisey), Kimberly Leisey (Kathy Solano), Kathryn Teague (William Teague), and Miguel Novak (Raya Novak); 12 grandchildren; and 14 great grandchildren. She was preceded in death by a sister, Irene Detterline.